The ALTAIRA reduces chassis and signal ground related noise to a degree that will astonish even the most seasoned music enthusiast or recording engineer. Designer Caelin Gabriel created the ALTAIRA to be an integrated state-of-the-art solution for controlling ground-plane noise in home entertainment and pro-audio systems.

An ALTAIRA ground-plane noise reduction system strips away multiple layers of noise, unlocking obscured subtle details and dynamics. The sheer degree of improvement in resolution in both audio and video performance must be experienced first-hand to be fully appreciated.
TWO UNIQUE GROUND HUBS
There are two ALTAIRA models available. Both have six component terminal connections, each with their own zone of isolation. The Chassis Model is ideal for simple systems where only a single hub is necessary to address performance. In more complex systems, the Signal Model can be used to segregate and isolate certain types of components. For instance: grouping and isolating the digital components onto a dedicated Signal Hub would provide a higher level of performance.
When properly configured, the ALTAIRA system comprises
a completely new class of audio products.
The ALTAIRA chassis and signal grounding hubs do more than just reduce noise. They reveal hidden musical detail and micro-dynamics, while improving dynamic scale, tonal accuracy and timbral definition with an expanded sense of spatial dimensionality. The bass foundation has added weight, grip, and articulation. Video content has improved image resolution, Dmax, and color saturation.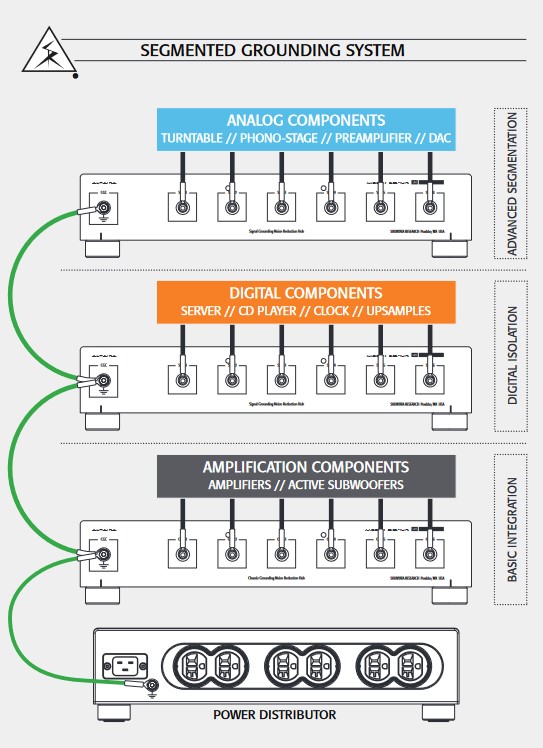 Specifications:
Altaire Signal Noise Reduction Hub
- Power Requirements None
- Number of Ports Six (6) ports
- Isolation Zones Six (6) zones
- Noise Reduction 6-12 dB @ 3 kHz — 30 MHz
- Earth Ground Isolation >6db @ 50kHz-30MHz
- Vibration Control Isolation polymer footer
- Construction Aluminum and steel chassis
- Machined aluminum faceplate
- Dimensions Width: 14.1 inches (35.814 cm) Height: 3.4 inches, chassis with feet (8.636 cm)
- Total Depth: 6.9 inches (17.526 cm), faceplate to end of ground terminals
- Depth: 5.6 inches (14.224 cm), faceplate to back of chassis
Altaire Chassis Noise Reduction Hub
- Power Requirements None
- Number of Ports Six (6) ports
- Isolation Zones Six (6) zones
- Noise Reduction 6-12 dB @ 3 kHz — 30 MHz
- Vibration Control Isolation polymer footer
- Construction Aluminum and steel chassis
- Machined aluminum faceplate
- Dimensions Width: 14.1 inches (35.814 cm) Height: 3.4 inches, chassis with feet (8.636 cm)
- Total Depth: 6.9 inches (17.526 cm), faceplate to end of ground terminals
- Depth: 5.6 inches (14.224 cm), faceplate to back of chassis

Ground Cables CGC/SGC Base Cable:
Venom v3 CGC/SGC
Delta v3 CGC/SGC
Alpha v3 CGC/SGC
Sigma v3 CGC/SGC
Omega v3 CGC/SGC


Available Terminations STISTM v3 interchangeable, Banana & Spade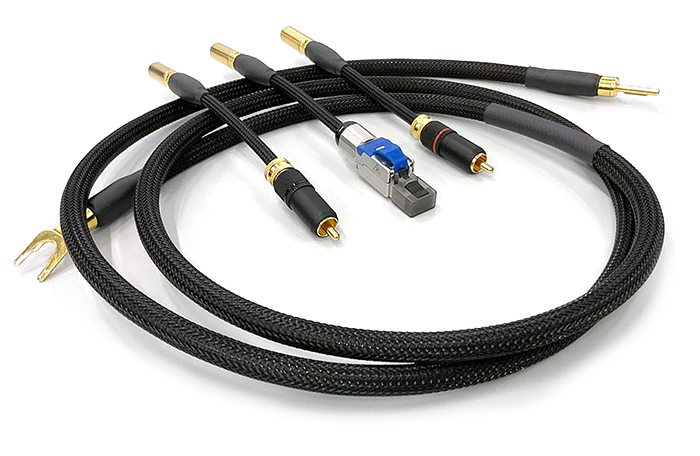 Ground Cable Tails: VTXTM and VTX-AgTM
Available Terminations: RCA, S/PDIF, XLR-F, XLR-M, USB-A, USB-B, BNC, Spade, Banana, Ethernet