The Shunyata Research DF-SS takes the patented technology Shunyata Designer Caelin Gabriel applied in the original DFE and DFE v2, to an elite performance level by adding two important design innovations. In addition to the patented energy-field neutralization material used in the original DFE, the DF-SS incorporates two forms of vibration isolation that quiets energy transfer between the floor and any cable product.

The most significant advance applied to the DF-SS is the wide band cable suspension bridge, designed to support any cable, power or signal, while dissipating vibrational energy through the purposefully tensioned polymer band. The second innovation is the energy-absorbing granular compound that fills the base of the DF-SS. This compound formulation absorbs floor borne energy that would otherwise couple to the cable, causing signal degradation.

These combined technologies define the DF-SS as the most technically advanced cable suspension system on the market. To prove the DF-SS efficacy, Shunyata will be publishing Accelerometer test results with the DF-SS, indicating the level of isolation they provide from floor borne vibration, common to all sound system environments.

The difference in performance the DarkField Suspension System renders is dramatic and easy to appreciate when applied to literally any high-performance audio or video system. When applied as a system, the DF-SS renders a dramatic reduction in perceived noise and time smear, yielding improved clarity, depth and spatial information within any audio/video system.
- Static-Neutralizing Polymer
- Vibration Absorbing Compound (internally)
- Polymer Cable Suspension Bridge
- Vibration Absorbing Feet for hard surfaces
- Patented design
- Wide Foundation (won't tip or fall)
- Unequaled Shunyata Build Quality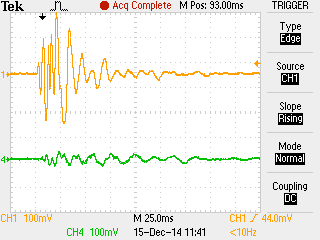 The Shunyata Research Approach: Cable IsolationAccelllerometer Readings
The DFSS (Dark Field Suspension System) Cable Isolation System measurably reduces cable vibration from the floor. Here is a graphic showing two identical cables, one without cable suspension (yellow), and one with the DFSS cable suspension system (green). An accellerometer attached to each cable shows vibration from the floor.