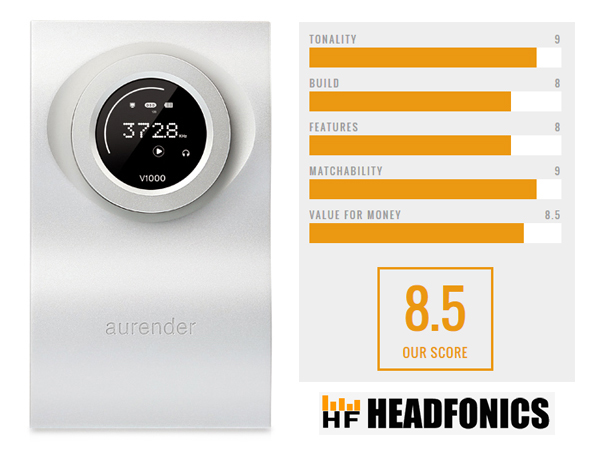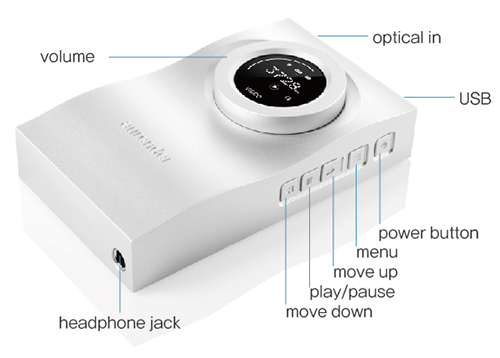 Powerful Hi-Fi Headphone Amp
- 32bit/384kHz , DSD64/128 DAC
- Velocity-Sensitive Volume Control
- Battery & USB Hybrid Power
- mSATA slot for music storage
- 7+ hours of play time with 4450 mAh Battery
- LCD with various Status Display
- Aluminum Machined Case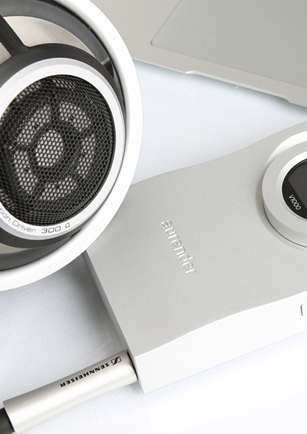 Targeted Serious Head-Fi'ers
Aurender FLOW has a 6.35 standard
headphone jack and enough power to
handle hard to drive headphones

FLOW keeps the background noise levels ultra-low,
making it an excellent match for reference
level custom In-Ear Monitors (IEM).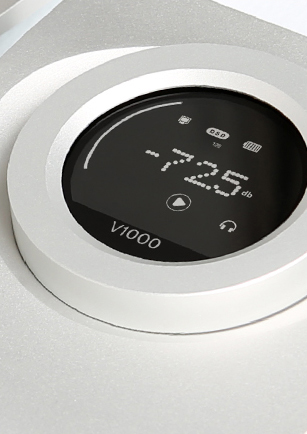 0.5dB Velocity Sensitive Volume & Playback Control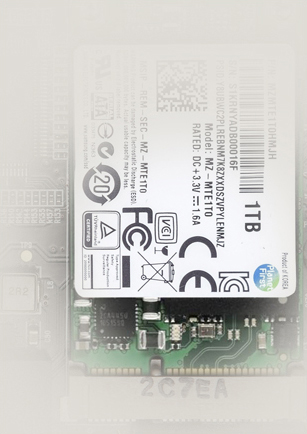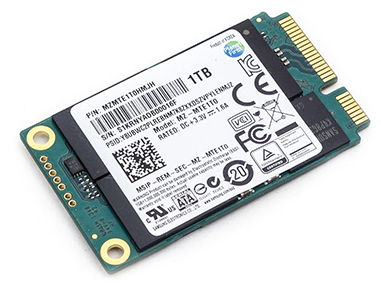 Slot for mSATA External Storage
Latest Notebooks typically only have 128-256GB
of SSD so there is not much space left
for our music libraries. You can utilize the
mSATA slot (up to 1TB, optional) and the Aurender
FLOW will act as an external USB storage.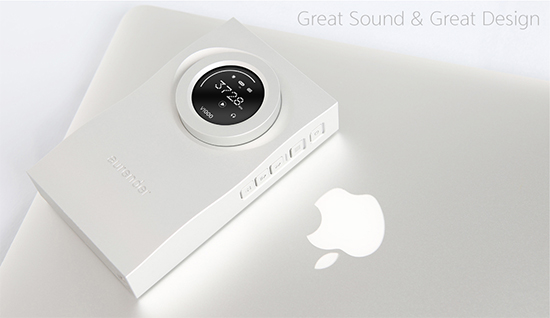 Specifications
- Product Name: Aurender FLOW
- Model Name: V1000
- DAC Chip:ESS9018K2M
- USB Interface & controller: XMOS XS1-U8A-64-FB96
- USB Audio: USB Audio Class 2.0
- USB Interface:USB 3.0/2.0
- Audio Output Termnial:1/4 inch(6.35mm) Headphone Jack
- Max Audio Output Level:5.1Vrms
- mSATA Slot: For Optional mSATA storage (User installable)
- THD+N Max -114d: B
- IMD(SMPTE) : Max -112dB
- Dynamic Range: Max 122dB
- Output Power by 600 ohm -> 43mW
- Output Power by 300 ohm -> 87mW
- Output Power by 56 ohm -> 384mW
- Output Power by 32 ohm -> 570mW
- Output Power by 8 ohm ->180mW
- Output Impedance: Max 0.06 Ohm
- Damping Factor: >130
- THD+N: 0.0002% (1kHz 5.1Vrms output)
- SPDIF Mode(Optic) : Up to 24bit /192kHz sample rate
- PCM mode(USB) : Up to 32bit/384kHz sample rate
- DSD Mode (USB) : DSD64, DSD128 / Native DSD through DoP Mode
- Battery: Samsung Li-ion 4450 mAh
- AC Adapter for Battery Charging: DC 5V/2A USB A Type
- Unit Dimension: 80 x 137 x 28 (mm)
- Unit Weight: 450g(mSATA excluded)
- Charging Time: 4~5 hours
- Play Time: 7 hours / 300 ohm Headphone